Transitional Living Program
Cultivating life skills needed for long-term success
Transitional Living Program
New Roads offers a long-term, individualized transitional living program, which includes an average of 20 hours of clinical and group services per week. In addition, these clients live in off-campus housing provided by New Roads. The transitional living program targets people whose mental, behavioral, or substance-related acuity does not warrant the intensive treatment provided at the residential level of care. The focus of the transitional living program is community integration, career building, life planning, employment, and developing supportive life skills building to help young adults learn how to live on their own.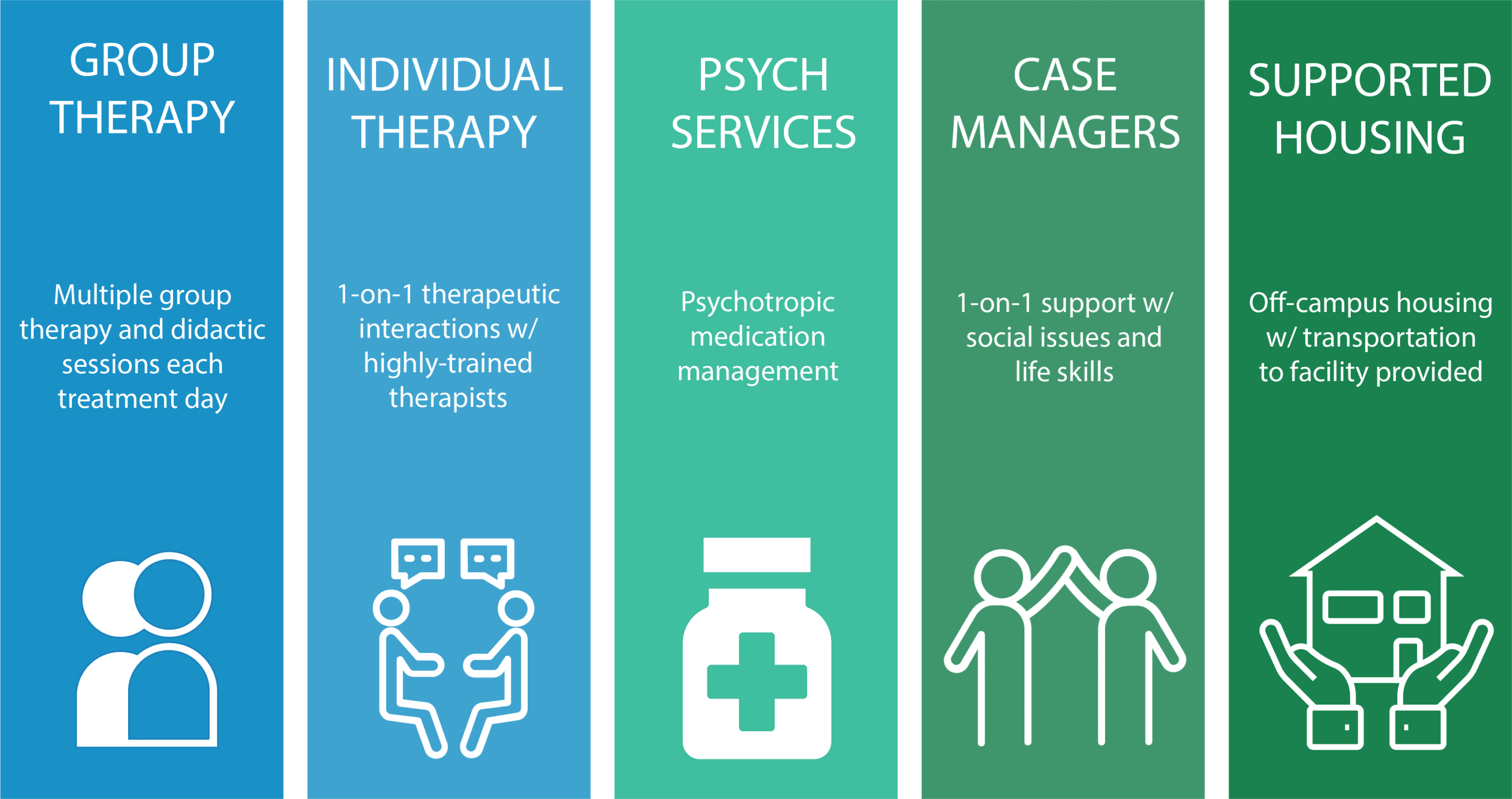 Group therapy: At New Roads, like most behavioral health centers, group therapy is the foundational element of the transitional program. Transitional typically features multiple group therapy and didactic sessions each treatment day. Led by a counselor, therapist, or other appropriate professional, group therapy provides individuals with the opportunity to share their insights, learn from the experiences of others, and give and receive support with individuals who are dealing with similar challenges. Group therapy sessions also provide safe and structured environments in which individuals can practice productive interpersonal communication and work on other skills that may be essential to their continued recovery.
Process groups
Psych education groups

Life skills groups

Dialectical Behavioral Therapy Skills groups
Individual therapy: New Roads offers one-on-one therapeutic interactions with highly-trained therapists. Individual therapy motivates clients, strengthens their skills, addresses trauma, teaches target-relevant behaviors, and generalizes desirable behaviors to all necessary environments.  The individual therapist coordinates the other modes of treatment.
Psychiatric Services:  Many people who are dealing with mental health or behavioral health disorders benefit from the incorporation of certain prescription psychotropic medications into their treatment plans. When a transitional client has been prescribed medication, he or she meets with a psychiatrist and/or nursing staff member for medication management services during their time in the transitional living program.
Case Management: Most clients benefit from one-on-one support with issues related to occupational issues, social functioning, educational progress, sobriety, and life skills
Supported Housing: In the transitional program, participants live in nicely appointed apartments. Direct support staff members frequently conduct welfare checks and provide as needed support. On-site staff members are located at each complex in case of overnight emergencies. The program offers housing, utilities, weekly stipends, recreational activities, medication monitoring, case management, and transportation. A reasonable fee will apply.
A Continuum of Care for Lasting Healing
Our team members use a combination of evidence-based treatment methods and individually tailored treatment to meet your specific needs such as:
Cognitive Behavioral Therapy (CBT)
Dialectical Behavioral Therapy (DBT)
Motivational Interviewing
Psychiatric Oversight
Who Says Treatment Can't Be Fun?
Weekly recreational activities and support groups
Take Back Your Life
Request to be contacted below by filling out your information.